With social presence and demographic insight greater than the U.S. census, it's inevitable that Facebook will permeate U.S. local politics.
In what I believe is a first for local politics in Pelham, New York (where we live), the four leading candidates running for two town justice seats are campaigning on Facebook, through Facebook Pages and Facebook Ads. The election is November 8, 2011. In any competitive environment, all it takes is one to adopt a new advantage, and the rest will immediately follow.
Candidates for Pelham Town Justice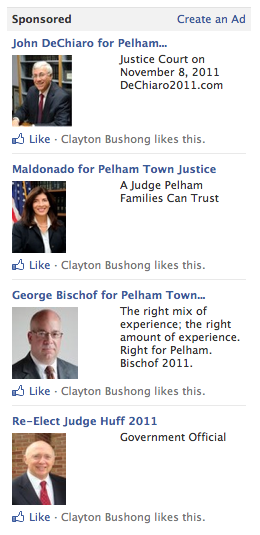 Following are the candidates for Pelham Town Justice, including their Facebook Page links, key Page engagement stats, and standalone candidate websites:
Facebook Presence Among The Candidates
Following are some observations (not criticisms), which reflect the infancy of local politicking on the Web and within Facebook.
In this small suburb of 12,000 residents (including adults and children), each candidate's Like ratio versus the population ranges from 0.35% to 0.9% (assuming only residents are Liking). As local political candidates take Facebook more seriously in the coming years, these rates will increase.
It's interesting that the one candidate with the most Likes has no standalone website (that I could find). Despite all the Likes, incumbent Judge Huff also has the least number of posts and relatively little information about his candidacy. Incumbency has its benefits!
Mercedes Maldonado embraces Facebook with the highest number of posts, and the highest response rates (Likes or comments) to her posts. When you're new, you're hungry!
No candidate provides a visible, deliberate and clear "Why You Should Get Out And Vote For Me" position in the Facebook info tab. However, all three candidates with a standalone website do so in that venue.
No candidate Facebook Page (or website, for that matter) uses video, which is among the most persuasive and viral means of communicating.
It's tough to really know without having access to the candidates' Facebook Ads advertiser accounts, but it seems they are not rotating their ad creative. I keep getting served the same ads. That can lead to user ad fatigue and lack of click-through, which can lead to higher cost-per-click and cost-per-like — in other words, poor performance.
Finally, I would love to see inside the candidates' Facebook Ads and Pages accounts, and standalone website analytics, to see the dynamics. I have a feeling these candidates have more action on their Facebook Pages given 1) the native Facebook interactivity and 2) the relative lack of refinement and interactivity of their candidate websites.
Guidance For Candidates
I think it's admirable and interesting that all the candidates are actively using Facebook and Facebook Ads. You have to go where the voters are. Â A lot of Pelham residents, including some of the most active community leaders, are active on Facebook. I know because many are my friends on Facebook.
Second, I'm not a political consultant, though I do know something about online marketing. I know all the candidates have limited time and resources, and prioritizing is not easy. But as far as Facebook and the Web go, each candidate has a major (and easy) opportunity to raise the bar and increase competitiveness.
Here are some quick, easy wins that all the candidates could execute on:
Provide deliberate candidate positions and rationales for voters on your Page's info page, and include heavy calls to action to that information from other places.
Actively update your Facebook status as it relates to your candidacies and personal lives — and engage with others. And experiment constantly because this space is evolving quickly!
Use video. All you need is a smartphone to upload a video to your Facebook Page. Capture interviews with residents and yourself, and share points of view and dialogue.
Spruce up your standalone websites and integrate them with your Facebook Pages — even sync or cross-post status updates. Use simple and free blogging software like Tumblr or WordPress (as George Bischof does) for your website presence and include links and buttons to your Facebook Pages. Having both is important.
Use a free-to-low-cost Facebook Pages tools vendor like Hy.Ly to drive deeper engagement and turn more of your fans into voters.
Include more variety in your Facebook Ads, and incorporate calls-to-action (like polls, or Liking) on your Facebook Pages.
Use Facebook Events to schedule happenings with your Facebook fans.
As millions of casual web users have demonstrated, these best practices above are easy to implement. Facebook and the other web platforms I mentioned are easy enough for anyone to master. But if you don't have enough time, then tap into some local supporters — including high school students or your own kids. They'd probably gain more practical wisdom from an immersion in a local political campaign than they would a year of political-science class.
Volunteer Facebook and Website Help For The Candidates
I wish I could get more involved in local government. With a couple of young kids and a tech startup, that's simply out of the question right now. However, I'd be happy to offer all of the Pelham Town Justice candidates a free feedback session on their Facebook and website strategies in exchange for a face-to-face discusion about what they'd like to accomplish in Pelham. Let's see if any seize the offer!
What do you think is the best use of Facebook in local political campaigns?