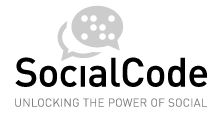 Well, I have much more than a new gig…
I've joined SocialCode as its first senior vice president of marketing on the executive team. I'm excited! 😀
First, I want to emphasize that I'm both fascinated and bullish on the important role of social media and technology in marketing. I agree with P&G's CMO, Marc Pritchard, who said recently: 'The era of digital marketing is over' and digital marketing is "just brand building."  I've also long believed the words "digital marketing" and "social marketing" shouldn't exist anymore. We now simply do marketing in a social and digital world, so get used to it.
Where does SocialCode fit in? Its technologies and service teams activate some of the largest campaigns on Facebook and Twitter. It quickly has become one of the most important technology partners in the exploding field of social advertising and analytics, but I see its impact rising and transcending to broader marketing success. The evidence is undeniable when you speak with its customers, which include more than 30 Fortune 100 companies, along with a majority of  leaders in categories like automotive, consumer package goods, consumer electronics, retail and financial services.
In terms of culture, I'm joining an effective and experienced leadership team, including Laura, John, Addie, Cary, Jason and Bill among others. (I've worked closely with Bill three or four times before, depending on how you count acquisitions.) And the broader team is smart, indeed. When speaking with customers during my interview process, one described SocialCode as "rocket scientists whose technologies deliver highly effective campaigns and deep customer insights." SocialCode was incubated within the Washington Post Company, which remains firmly committed to fostering a world-class company.
My job is to oversee corporate marketing, product marketing, thought leadership and public relations. While the company already is doing very well, I aim to strengthen its value proposition, articulate its vision, and increase market presence and reputation. I'll be based in our growing New York office, and frequent offices in Washington, D.C. and San Francisco.
There's a lot of work to do, but it's going to be a fun ride.
Wish me and the team luck!