Twitter now is fully a part of a marketer's universe. But it should not rule out other social media venues when seeking deep customer sentiment.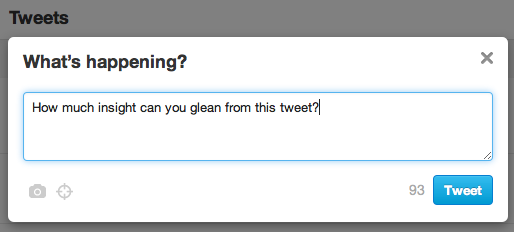 Serendipitously, I met with two CEOs last week to talk about their ventures in text-mining and social media analysis. I've been out of the social media analysis game for some time, but my legacy and this site regularly attract companies seeking either confidential feedback or public affirmation. I'll always be fascinated with the subject, so I welcome these connections. (My work at Clickable is catapulting me back into the social media realm — particularly around ads — but I'll delve into that another time.)
One similar comment from both execs struck me given the Twitter rage: Twitter's signal-to-noise ratio makes it more difficult to glean deep customer and brand insights using text analytics — that is, unless you know exactly what you're looking for. Sure, there are binary, extreme high-volume events that can be detected and analyzed, but valuable nuggets are widely scattered. Moreover, there tends to be more spam and false-positive signals. (Although, like email, I think spam and intelligent source filtering will eventually alleviate that pain.)
That's in comparison to a large, steady universe of highly specialized niche venues, like ratings and review sites, groups and communities — where there are more complex interactions. For example, if you're a pharmaceutical company seeking deep understanding of patients undergoing a new treatment for hodgkin's lymphoma, you'll certainly find a lot of 140-characters chatter on Twitter, but are more likely to glean deep interactions and insights in the Hodgkins Lymphoma channel at Supportgroups.com.
To be sure, this does not suggest Twitter is not valuable for gleaning deep insights. And it certainly does not suggest Twitter lacks high and immediate value as a communications channel, an early trend indicator, or intervention signal for a company's marketing, sales or customer-service departments. But for deep brand sentiment analysis, it is more challenging.
For many brands, there simply are other passive observation venues — lower hanging fruit — which marketing professionals should prioritize in their quest to understand customer sentiment.
Speaking of Twitter, you can follow my sentiment at @maxkalehoff.