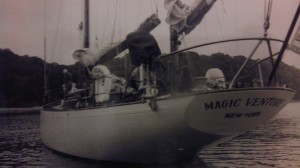 "In all phases of my work I was conscious of the need for balance, and I did my best to find balance in both the long and the short view. Broadly I think I can say that I applied the principles of balance in design, in business and in the pleasures I enjoyed."
Those were the words of legendary yacht designer Olin Stephens, from the final paragraph of his autobiography. For the many tech people (or landlubbers) who frequent this site, Stephens was to the yachting and broader nautical world what Steve Jobs was to the consumer electronics and media world.
Stephens (via his firm Sparkman & Stephens) was the designer of Magic Venture, the 52-foot yawl I grew up on most of my life — until age 22, to be specific. It was Stephens's work and this boat that made me passionate about sailing and antique yachts, as well as respect for stellar design, form and function. I admire his legacy for balance, and his technological innovation.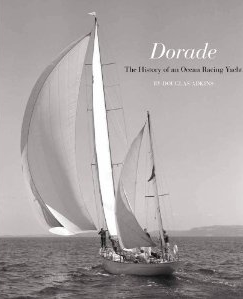 So it is my obligation to point to a new book by Douglas D. Adkins titled "Dorade: The History of an Ocean Racing Yacht". Dorade was Stephens's first major design, and a predecessor to the Magic Venture.
As you can tell from the photo of Dorade on the book cover and the photo of Magic Venture, taken by my mom in 1975, the hulls are nearly identical.
"She was, and is, unique," writes Dorade author Douglas D. Adkins. "On one hand, lovely and dainty, and on the other purposeful and determined. She is still an icon of a certain beauty in yacht design."
I recommend Angus Phillips's great book review in The Wall Street Journal. By no coincidence, I learned about the book and review from longtime family friend Jesse Terry, who, similarly, grew up on a Sparkman & Stephens 48-foot yawl named Tomahawk. I immeidately shared the review with several friends passionate about wooden boats, including David Churbuck.
Finally, since I'm on the topic of Olin Stephens, I might as well share a photo my dad took of us at an Olin Stephens tribute and yacht rendezvous at Mystic Seaport in 2001. I'm not suggesting I knew Stephens on a close and personal level, but I'm still proud of the photo.
PS:  For any Stephens history buffs, Magic Venture was renamed Bounty and has a good, new caretaker in Sausalito, CA. There have been a number of rumors and false accounts of her history and whereabouts.