"If you want to live longer and healthier than the average American, then come to New York City." – Mayor Bloomberg, December 27, 2011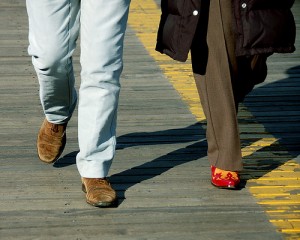 True or not, I've always perceived that people in New York are slimmer and healthier than people elsewhere.
My theory has always been that while New York is perhaps the most stressful place to live in the U.S., its inhabitants are forced to walk more than any other city or metropolitan area.
For example, most people don't have cars. Most can't afford taxis most of the time. Most live above ground floor and don't have an elevator. The NYC subway and bus system is mostly awesome, though the immensity of New York still requires walking several blocks from nearby stations to final destinations.
While I no longer live in New York, I still commute to New York from neighboring Westchester County. My daily commute includes a mile-long walk between my home and the train station. On pleasant days, it also includes a mile-long walk between Grand Central Station and my office in the Flatiron District. As a result, I walk, on average, three miles per day, whether I like it or not. I am not unusual.
The latest vital statistics are published and New Yorkers are living longer. And not only longer, but longer than most other Americans. According to a statement from the office of Mayor Bloomberg:
[B]abies born in New York City in 2009 have the record high life expectancy of 80.6 years, an increase of nearly three years since 2000 and nearly two and a half years more than the most recently reported national rate of 78.2 years. Life expectancy for 40-year-olds in New York City increased by 2.5 years (79.5 to 82) from 2000 to 2009, a substantially greater gain than the 1.2 year increase for the same age group in the U.S. as a whole. At the same time, life expectancy for 70 year-olds in New York City increased 1.5 years, compared with .7 years for the nation. Not only did the City's life expectancy rate surpass the national rate, it improved faster than any major city for both women and men.
Indeed, Bloomberg (whom I think is a great mayor) credits these positive trends to his administration's policies. I'm sure they had some impact, along with other factors.
But I have to believe that walking is at the core of New York vitality — far more than anything else.
(Photo:Â smcgee)