Since we moved five years ago into our 1920s Dutch-colonial house, we'd been dining on the same small cherry-wood pedestal table from our Brooklyn brownstone. It enabled great meals and remains an awesome table (and it's for sale if you'd like to buy it).
But it was time to upgrade to a new dining room table to anchor our larger home and growing family. So we purchased a four-legged pine table, which matches our kitchen cabinetry and seats up to 12. In just three weeks, it's hosted a few dinner parties and dozens of family meals. We're happy with it.
Satisfaction aside, I thought the consumer ironies of our new table are interesting, if not downright American…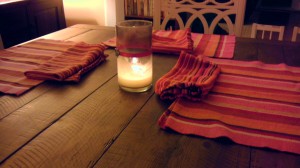 It is new, but accessorized with "authentic saw marks and natural gouges".
It had never been used, but it was a floor model the store couldn't sell. Nobody wanted it, so we paid half price.
This "farm table" was designed, built and marketed not for country bumpkins, but for thirty-something-year-old suburbanites, like us.
"It's beautiful, but it doesn't let us to sit close to one another, like our old table," my five-year-old son proclaims. I can't argue that, but we're a little less cramped and can more easily accomodate guests. It's also made our dining room more of a hangout.
Finally, our kids, birthday parties and occasional adult dinner parties will abuse the table surface, but nobody will notice or care. In fact, the abuse will only accentuate the stylized saw marks and gouges, which we would've paid premium for, if it weren't for the half-price sale.
Our new dining room table has earned a place in our home.