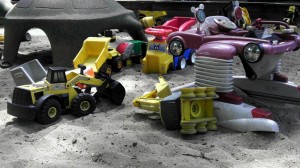 Props to the community of Larchmont, New York for turning a public playground into a mecca of second-hand toy vehicles. This was obviously an organized effort by local families to put old, unused toys — collecting dust in basements and garages — to good use.
My five-year-old son spotted the playground while the family was driving north on Palmer Avenue en route to Walter's Hot Dogs in Larchmont. It looked like a vehicle fair going on, but with just a few kids present. It was quite a site.

The playground was littered with at least a hundred vehicles — ranging from construction equipment, to police cars and fire engines, to planes. Some were small, some were intended to ride, and some were so large they could be ridden even though they weren't intended to. There were even conventional tricycles and scooters.
These vehicles were there for all kids, and our kids were in heaven. We played for several hours. This was better than being in a toy or candy store. Even I thought it was cool.
I wish there were more of these communal efforts to make better use of our public spaces and abundance of stuff.