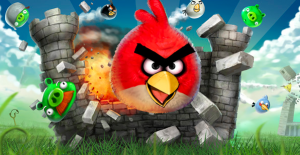 I recently downloaded the ad-supported version of Angry Birds, the mobile game, on my Android smartphone. It's fun and addicting. It's so addictive, it's almost annoying. Who would've thought it could be so gratifying to manipulate angry cartoon birds with special powers to kill pigs?
With more than 30 million downloads, Angry Birds is becoming so successful that many are calling it the new Pac-Man. Rovio Mobile, which produces the game, expects the ad-supported version of Angry Birds to earn over $1 million per month by the end of 2010.
I'm intrigued with the placement of the ads on the Angry Bird game. I've concluded that the required finger-tapping to control the birds' flight path results in high, unintentional click-throughs. I must accidentally click on an ad at least once per session. Each ad takes me to an advertiser's landing page, which requires me to hit the back-button on my phone in order to return to the game.
But this accidental ad click-through phenomenon is even more pronounced with my four-year-old son, who loves playing Angry Birds on my phone. He, too, accidentally taps on the ads. But he gets frustrated when the game disappears after each unintentional ad click. The funny thing is he's too young to understand what's happening. And the last ad he clicked on took him to a landing page for a Coke wallpaper app, which he unintentionally installed. That app subsequently froze my phone's operating system.
I'm an advocate for advertising, including in-game advertising. But the mobile advertising industry has some work to do to prevent unintentional click-throughs. This is necessary for the sake of user experience, as well as to gain confidence from advertisers who are unlikely to benefit from artificially high ad conversions rates over the long term.
As of this writing, I don't think there is a paid version of Angry Birds for Android. I like the game so much I would pay for it. How about you?