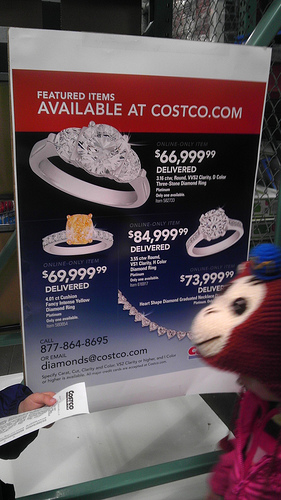 Costco never ceases to amaze me.
There's a lot to love, from double-seat shopping carts to caskets (displayed in the exit aisle adjacent the snack bar) to wedding services.
The theme of Costco is value, whether you're buying staples like diapers and organic milk, or higher-priced items like vacations and automobiles.
During our last visit, Costco reminded me yet again how expansive its repertoire has become.
No joke: next to the casket display was a promotion for three and four carat diamond rings priced between $66,999.99 and $84,999.99 — delivery included!
(Going to Costco is usually a family affair, and I couldn't resist capturing this funny scene of the diamonds-at-Costco poster, with my son examining our receipt while my daughter admired the jewelry with her monkey hat on.)
Of course, selling high-priced jewelry is probably not the marketing endgame. The goal is to position the brand more favorably among affluent shoppers, and persuade them to spend more on higher priced items across the board.
I wonder: Has Costco ever sold one of those high-priced rings? If so, do you think the purchaser prefers to keep that fact on the down-low?
I would love to know the backstory.