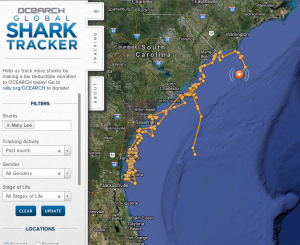 I love the work that Ocearch is doing in tagging, tracking and studying great white sharks.
The Ocearch Global Shark Tracker is pretty cool as well. You can pick any shark and view its global movement since being tagged with the satellite tracking device. It's a clever and practical way not only to study the sharks, but to empower anyone to follow along and engage in the program.
Not surprisingly, the giant female great white Mary Lee, tagged off of Cape Cod a few months prior to this post, has been garnering all kinds of interest with her migration down the North America coast to the Georgia-Florida border. She's since circled around and headed for North Carolina, sometimes traveling within a mile of the beach!
How to catch and release a great white shark?
Check out this video of the Ocearch team capturing and tagging Mary Lee.