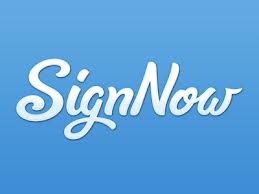 Often the most powerful apps are ones that bridge the offline world to the online world.
Over the past several weeks, I've processed an unusually high volume of personal paperwork due to career transitions, financial milestones, household renovations and back-to-school. As our household's lead administrator, I've had to complete and sign hundreds of documents.
If there's one app that's reduced the hassle in my paperwork hell, it's SignNow. By importing documents to SignNow, the service allows you to easily fill in text and add signature images into any field — all with the click of your mouse and a few keystrokes. You then can save the updated document as a PDF file for electronic delivery or printing.
It's a simple concept, but it does a few important things for me: 1) improves efficiency versus handwriting, 2) improves accuracy by eliminating my bad penmanship, 3) enables rapid document completion and eliminates the need to print hard copies of electronic documents, 4) holds archives for later edits and corrections.
SignNow works on conventional computers and mobile devices, and has ancillary features I've not even covered. It works great for personal use, but is equally suited for business use. There are free and premium versions.
SignNow (and similar services) has been around a few years now, but I never adopted it until recently, when a friend recommended it. Given my late adoption and great experience, I wanted to share my experience and encourage you to give it a try as well. Until we move beyond the traditional metaphor of paper document signing and authentication, it will reduce your paperwork hassle.
Sign away!
This article also ran in MediaPost.