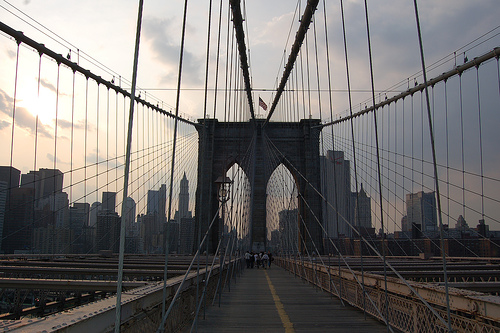 Fred Wilson, the venture capitalist, is our feature guest at Clickable's Interesting Cafe this evening.  In preparation for his talk on what makes the New York startup sector special, Fred sought community feedback through various posts (here, here and here) and on a wiki (here). He's struck a chord with the community, as evidenced by a sold-out event, and hundreds on the waiting list. To extend the value of Fred's talk, we'll live-stream the event here, and I'll post a summary, edited footage and interviews later.
So what makes the New York City startup sector special? I have my biases. For one, New York is the home of Madison Avenue, advertising and the media business. That's a massive but broken industry, and ripe for reinvention. Simply, New York startups have an edge because they're based on or near Madison Avenue — the world's marketing and media nerve center (or one of them). They're close to the problem, close to the decision makers, and close to the marketing dollars that are seeking more efficient and effective investments. I saw this proximity benefit in all the past startups I've been a part of, including Media Metrix/comScore, BuzzMetrics (sold to Nielsen) and now Clickable.
Additionally, as a lifelong New Yorker — born at NY Hospital, the son of commercially successful artistic parents, one a composer and the other an industrial designer — I view New York as a bustling carnival with a creative and enterprising spirit. "If you can make it in New York, you can make it anywhere." New York has an edge, grittiness and competitiveness that incubates cultural and entrepreneurial extremes. The City is a grand, open stage where optimism comes to audition. The strong survive and the rest leave. A lot of that manifests in the tech startup scene. Importantly, though, the benefits of this DNA extends far beyond the tech sector to all sorts of startups.
What do you think makes New York's startup sector special?
(Photo credit: mbell1975)