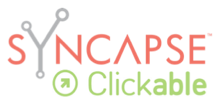 Today marks the next chapter of Clickable, as our five-year-old startup becomes part of Syncapse.
I'll reflect further in the coming days, but here's a quick synopsis…
Syncapse provides a highly advanced digital platform for CMOs to drive better business performance and social connections in social media. Syncapse solves the pain of major global enterprises and franchises that struggle to maximize social connections across multiple brands, hundreds of locations and millions of customers — amidst multiple social platforms like Facebook, Twitter, YouTube and more.
With Clickable, Syncapse adds social and search advertising to the mix. This is critical as advertising, content and consumer engagement on social media become more intertwined. As a marketer, you need the complete social performance picture, especially since social is taking the lead in overall marketing communications strategy.
Jonathan Miller, Chairman and CEO, Digital Media Group and Chief Digital Officer for News Corporation, said in the news release:
The combination of Clickable and Syncapse reflects the convergence of the digital marketplace, as recent acquisitions by Oracle and Salesforce are also demonstrating. As a director at Clickable for over three years, this is a powerful and timely move for both companies, and it strengthens Syncapse's position as the premiere independent social performance platform.
On a personal level, I'm proud of our accomplishments and the close friendships we've built over five years at Clickable. David Kidder, Dave Fall, Dave Smith, Sandeep Sahi and many others (the list is too long) have played an important role in my own personal and professional journey.
While that chapter is over, an exciting new one has begun: I'm delighted to join the team at Syncapse, a very sharp, accomplished and culturally aligned group. I'm excited to work with Michael Scissons, Martin Suter, Stephen England-Hall, Sarah Long and more. I'll take on a new role on the Syncapse leadership team as VP of product marketing.
In joining Syncapse, we have become a major contender at the center of the social and digital marketing revolution. There's still a lot of work to do, and I look forward to helping this world-class team push the bar even higher and lead the market.