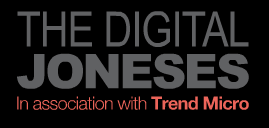 As part of The Digital Joneses project I'm doing with other "mommy" and "daddy" bloggers, and with Trend Micro, one of our challenges is "Staying Connected on the Go." We were asked to refrain from using a laptop for a 24-hour period and, instead, rely entirely on a smartphone to interact with online social media and networking sites, and engage in other activities like shopping and banking.
This wasn't much of a challenge because I use my smartphone to do all of these things already — especially on weekends, when I'm on the go with my kids.
So I took it upon myself to make this challenge, well, more of a challenge: give each of my kids a smartphone.
Trend Micro already loaned us two prepaid AT&T Go smartphones, which are low-end Android devices on prepaid, pay-as-you go calling plans. Trend Micro also provided its Mobile Security software, making our enhanced challenge all the more feasible.
Before I go on, note that I have a three-year-old daughter and a five-year-old son, and I have mixed feelings about children and electronic devices. Research and common sense demonstrates that the more a child is spoken to, the better her reading comprehension. Therefore, playing with your smartphone instead of talking to your child can put your child at a learning and reading disadvantage. Moreover, time-wasting is a big concern with gadgets and digital connectedness: In fact, a new digital divide is emerging: As connected devices manifest, children in less affluent families spend considerably more time than children from more affluent families using their television and gadgets to watch shows and videos, play games and connect to social networks.
On the other hand, I wonder if there is a risk of not introducing connected devices and teaching disciplined, digital literacy. We now live in a digital, connected world, and increasingly so. As I wrote a few years ago, there are no norms or best practices, and there probably won't be for some time. Our society must tackle these questions.
Indeed, our family has been tackling this question since my kids were born. We have lots of gadgets and mobile devices around the house.
Yet this was the first time I ever handed over a fully connected smartphone to my kids, to call their own (well, for the duration of this project).
Here's how it went…
Activation
Perhaps I'm a simpleton, but I had difficulty activating the Go phones. The first phone turned out to be a lemon: I turned it on and it wouldn't stop vibrating. I did a hard, factory reset with AT&T service, and they confirmed, "it's faulty, so return it". The second phone stumbled through the self-activation process, and automatically connected me to a service technician for help, which he said would cost me $5. Seriously? I explained what happened and he agreed to waive the charge. An hour later, we had a working phone.
With an Android phone, you have to link a gmail account in order to access apps in the Play Store. To avoid using my own gmail account on this loaner phone (thereby creating a new security vulnerability), I created a new account for my kids. I then configured the touch screen security.
From there, I easily installed Trend Micro's Mobile Security app from the Android Play Store and set it up from my personal. Activating the app and connecting to it from the main Trend Micro website dashboard was simple as well. It includes a malicious app scanner; filtering and blocking for calling, texting and Web surfing; parental controls and lost device protection.
Kids Using Their Own Smartphones
Smartphones are personal (not shared) devices, so when I told my kids they had to share, things didn't go over well. 🙂 We're still trying to figure out a good sharing system. I'm not sure we ever will.
Given my concern with young children and electronics, I decided to limit their usage to taking pictures, shooting video and calling family members. We also activated Flickr to instantly upload photos to our family photo-sharing account. Phones, Internet and (video and still) cameras now are one and the same!
They've been having a blast embracing the phone to take all sorts of shots, and they get a kick out of later seeing them projected onto the big flatscreen monitor in our movie room. And photo-shooting sessions tend to get intermingled with spontaneous calls to grandparents. We've been going through two of these cycles a day for the past week.
What I Learned
It's scary and completely apparent that kids model their phone usage behavior after their parents — even more so when they have their own phone. Most noticeable behaviors include a desire to always have it with them (even when they sleep), a tendency to break focus on other activities and respond to unexpected beeps and rings, and an urge to constantly charge the battery.
For these obsessive reasons, alone, ownership of their own smartphone will end when this project ends. I'm now much more aware of my phone and gadget behaviors, for they're closely observing and following. I would prefer they develop into adults who aren't hindered by the psychological tether that smart phones have so become.
I'm not sure what will be the right age for owning their own smartphones, but certainly now is not the time.
I do, however, like the idea of having their own digital cameras. Their shots and videos have captured some great memories and perspectives to share and view when they're older.
Thoughts On Mobile Security and Kids
This project made me realize more than ever that we're in a new era of connectedness as well as security. Our digital world now is mobile first, desktop second. My children, with their own smartphone, were suddenly walking around with a very powerful tool that can deliver benefit as well as harm. Given the smartphones' portability, power and containment of high volumes of sensitive personal data, I see the value of mobile security services — especially for children, who inherently are more vulnerable (and I was not paid by Trend Micro to say this.)
Safety Tips
Following are basic smartphone safety tips everyone should practice, courtesy of Trend Micro.
Enable your password on your mobile device: Make sure it is not an easy password that others can guess. Do not use your address or an easy sequence like "1234" or "5555".
Malware can gain access to a mobile device's core: If you ever experience your mobile device turning off and on unexpectedly, or sending unauthorized messages to your contacts, you should know it is infected with a virus.
Trust the source not the application: Malware developers can sometimes replicate original applications making slight changes (embedding virus), and re-post them on app stores. Make it a habit to download applications only from trusted sources. If you come across a new company, research about it.
Install the latest operatin-system (OS) patch: It is strongly recommended by developers to install the latest OS patch as soon as it is available. How would you come to know about the latest version? Upgrade your device as soon as you are notified to install the latest OS update.
Pay attention while installing an app: The mobile device prompts you before an app can access your information. If an app seeks irrelevant information such as a game asking to allow access to your phone book, quit the installation and recheck the source.
Beware of public Wi-Fi PublicWi-fi is definitely very convenient, but avoid accessing sensitive personal information through it. A potential hacker can access the same network for free if you can; posing your mobile device a threat.
Your Thoughts?
What are your thoughts on kids and smartphones? Any suggestions? Let me know in the comments.
Disclosure: The Digital Joneses Study will occasionally include loaned gadgets and licenses to various Trend Micro security softwares.