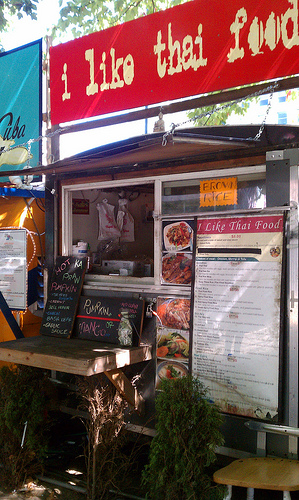 We recently spent a few days in Portland, Oregon for a wedding. This was our first time. It's a wonderful city with a lot to love — beautiful scenery, progressive green town, art, music, history, breweries and coffee shops.
But one thing I especially love: the food-trailer scene.
Upon landing in Portland, we headed straight to the Apple store to pick up a replacement power adapter for my MacBook. That's when we stumbled into the food-trailer lot on SW Alder Street. There must've been at least fifty food trailers surrounding the block. Each specialized in its owner/operator's native or passion cuisine, including varying genres of Indian, Chinese, Mexican, Brazilian, Peruvian, Thai, French, German and more. It was like the U.N.
Hungry after a day of traveling from the East Coast, I was lured to the "i like thai food" trailer. I ordered Pad Ki Mao to satisfy my spice craving. At only five bucks, it was among the best I've ever had. Laura went to a Peruvian truck and got a noodle-and-beef something, which she loved. Then we  went to Harry's Yogurt trailer for tart frozen yogurt. Yum. The rest of our trip was dedicated to sampling as many food trailers as possible.
Portland has a lot going to support a thriving food-trailer scene: a young, ethnically diverse population; good local produce; savvy and adventurous palettes; and hungry people on a budget. Indeed, the food trailers have become one of the city's cultural and culinary treasures. I'm surprised more cities don't do more to support them.
I've lived and worked in New York nearly my entire life — and still do. It's an international food mecca. Despite growing popularity of food trailers, it's far behind the food-trailer scene of Portland. I wish that would change.