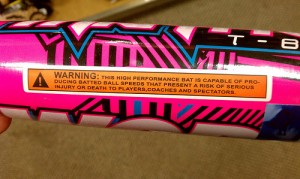 Baseball season has arrived.
And my four-year-old son is experiencing it (T-ball, specifically) for the first time as a member of the Pelham Four Stars.
He's loved it so far, from the opening-day parade through our town, to team practice and games, and all the individual practices with his little sister and me. I've enjoyed participating equally as much– and with a four-year-old, it truly is equal participation.
Now, from the title of this post, you may think I'm a little freaked out over the possible dangers of baseball bats. I'm not. I think I have a healthy awareness for playing safe. However, I also consider getting a little bruised up a natural and healthy part of playing sports and growing up. In two weeks, my son already has earned a few cuts and bruises.
But when we went shopping for gear, I admit I was startled by the warning on on the tiniest pink T-ball bat that my two-year-old daughter picked up. It said:
WARNING: THIS HIGH PERFORMANCE BAT IS CAPABLE OF PRODUCING BATTED BALL SPEEDS THAT PRESENT A RISK OF SERIOUS INJURY OR DEATH TO PLAYERS, COACHES AND SPECTATORS.
Has baseball bat technology really gotten that good since when I played little league thirty years ago? Or have litigious baseball participants prompted cover-your-ass disclaimers among bat manufacturers? Or both?