Spring is my favorite time of year, and one of my favorite spring activities is container gardening. Beyond beautiful flowers, fresh herbs and tasty vegetables, container gardening is therapeutic. From getting dirt under your fingernails to daily watering and pruning, container gardening brings you closer to earth — even if just a few minutes a day. Each morning and night in spring, summer and early fall, the few minutes I spend with the container garden counter the insanity of the daily rat race. Container gardening is also a fun activity in which to include kids of all ages.
When we lived in our brownstone in Brooklyn, we outfitted all of our bay windows with cedar flower boxes. When we moved to the Pelham suburbs, we brought all of our window boxes with us. Now each spring we  set them up on the railing of our backyard deck, along with numerous other planters. Back in Brooklyn and now Pelham, I always pick a flower and color scheme to execute similarly across all of the window boxes. This year's boxes feature red geraniums and blue and white trailing bacopa, pictured above, immediately after planting.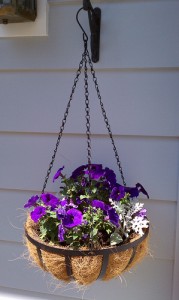 I use my other planters and pots for everything else. My mom, visiting from Australia, filled several containers with purple petunias and silver dusty miller. Our two preschoolers planted sunflower seedlings. I  look forward to watching them grow and fill out.
In addition, I always plant herbs to cook with. This year we have several varieties of basil, coriander, dill, verbena, oregano, thyme, rosemary, lemon balm and spearmint. Tomatoes are on the way, along with several other unknown, spontaneous acquisitions.
Each year our container garden on our backyard deck is a little different, yet always special.